Further hobbies of the talented physician were playing the violin for his own enjoyment or accompanied with his wife and children or writing poetry, stories or his book.
Before he completed all his scientific and clinical research he was forced to retire after 34 years of work. At that time Moravia had become a part of Czechoslovakia.
The discoverer died on March 5, 1944 in Olomouc. After the war his remains were transferred to Graz, Austria, where his two sons, Dr. Dr. Konrad Zirm and Dr. Eduard Zirm lived. He was unable to remain in the crypt he had built as his last resting place for his ashes in his beloved garden. Instead he rests next to his beloved wife Irene at the cemetery of St. Peter.
Often the pioneer work of many doctors is not recognized until decades later. Such was also the case for the surgical method of Dr. Zirm. It was applied and further developed abroad. After the October revolution in Russia, there was a need to catch up in ophthalmology. Vladimir Petrovitvh Filatow performed many corneal transplants even while Dr. Zirm was still alive.
Among his many descendants one son and four grandchildren have become physicians:
His oldest son, Dr. Dr. Konrad Zirm, MD.
His grandson, Univ.-Prof. Dr. Mathias Zirm follows in his grandfather's footsteps and enriches the world of medicine through his outstanding work. In November 2001 he received in the Oratorium of the Austrian National Library the Medal of Honor for Science and Art of the Austrian Albert Schweitzer Society.
This well known institution honored the eye surgeon for his life's work, which is rounded out through his social effort – ORBIS-Project, in which he conducted countless free training classes and provided support in China.More can be found at www.zirm.net
His grandson, Prim. Dr. Bernd Zirm leads the Provincial Hospital in Bad Radkersburg.
His grandson Martin Terplan, MD
His grandson Peter Terplan, MD
Sein Urenkel Mischka Terplan, MD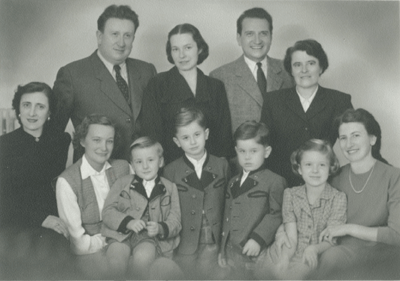 Some of the descendants of Dr. Zirm, Graz, fall 1949. Family photograph.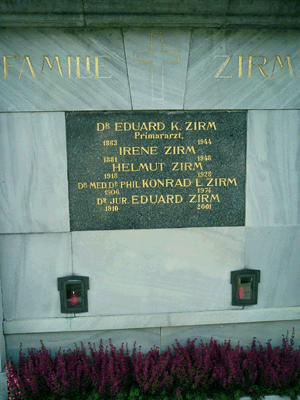 The Family tomb in Graz